The Good, the Bad, and the Ugly
Master Gardener Advanced Diagnostic Training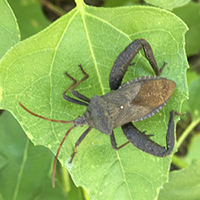 Wednesday, November 14, 2018
Sumter County Fairgrounds
7620 State Road 471 Bushnell, FL

Florida Master Gardeners and Extension Agents are invited to register for The Good, The Bad and The Ugly Advanced Master Gardener Diagnostic Training on November 14 at the Sumter County Fairgrounds in Bushnell, FL.

This training is designed to increase diagnostic confidence of Florida Master Gardeners who work with Ask the Master Gardener plant clinics and information booths. Experts in their field will cover diagnosis of palm and turf diseases, identification of insect pests on ornamentals in central Florida, as well as insect and disease diagnosis and management in vegetables, and citrus nutrient deficiency, disease and pest diagnosis.

The registration fee of $25 includes lunch, breaks and materials.

Register at https://advanced-mg-diagnostic-training.eventbrite.com.

You may contact Lisa Sanderson in Sumter County with questions at lsanderson@ufl.edu or by calling 352-569-6862.