Spring into Action for a Healthy Lawn
Spring is when many people start thinking about their lawn again. Winter's dormant period gave us a bit of a break from lawn care, but it's time to get back out there. These four tasks can help you get ready for your lawn's active growing season.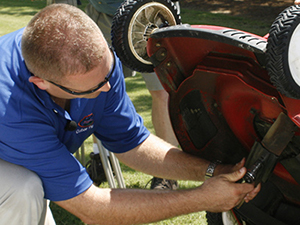 1. Check Your Lawn Mower
Now's the time for lawn mower maintenance. Do you need to change the spark plugs, air filters, or oil? Do the moving parts of your machine need lubricating? Can you raise your mower deck easily? Remember, you never want to remove more than 1/3 of the leaf blade at any time.
At the very least, consider sharpening your mower's blades. Dull blades tear leaf tips, leaving your turf more susceptible to insect or disease invasion. Plus, torn leaf blades make the grass less drought tolerant and leave you with a less visually appealing lawn, so take the time now to make sure your equipment is working well. Learn more about lawn mower care and safety.
2. Make an Irrigation Plan
Early spring is a great time to calibrate your sprinkler system. A calibration test will allow you to figure out how long you need to run the sprinkler system in order to apply the correct amount of water to your lawn. You can find out more about how much water your lawn needs and how to calibrate your system here. While you're inspecting your system, make sure the irrigation heads are pointed in the right direction; you don't want to waste resources watering non-permeable surfaces like sidewalks, driveways, or even the side of your house. It's important to water your lawn according to the latest regulations and recommendations. Your local Water Management District should be able to provide you with this information.
3. Do a Soil Test Before Fertilizing
Having a soil test done before you fertilize is ideal; you can provide your lawn plants with exactly what they need without over-fertilizing. You can get a soil sample kit from your county Extension office. Proper fertilization is important for the health of your plants as well as the environment as a whole. To minimize environmental risk, be sure you are selecting a fertilizer labeled for urban turf and your specific grass type.
Applying fertilizer at the appropriate time of year is crucial as well. Generally, fertilizer should be applied in the spring, but be sure that you are abiding by local rules and regulations related to fertilizer applications. Learn more in the UF/IFAS publication, "General Recommendations for Fertilization of Turfgrasses on Florida Soils"
Remember, select a fertilizer with low phosphorous—most Florida turfgrasses already have access to ample phosphorus from the soil without needing to apply more. Fertilizers with slow-release nitrogen are ideal. They provide nutrients to plant roots over an extended period of time, preventing nutrients from leaving your landscape and entering waterways, where they contribute to harmful algal blooms and other water quality problems. Learn more about fertilizer options.
4. Scout for Weeds and Evaluate Your Lawn
Early spring is a great time to scout early for weeds and determine how best you can deal with them. Ultimately, the best way to prevent weeds is a healthy lawn. Proper fertilization, watering, mowing, and pest control are all necessary parts of growing a healthy turf capable of preventing weed infestation. Learn more in the UF/IFAS publication, "Weed Management Guide for Florida Lawns."
If you have an area where your lawn has just not been growing well, even with proper care, consider the first principle of Florida-Friendly Landscaping™: Right Plant, Right Place. It's unlikely that every part of your landscape is ideal for turfgrass. Some areas may be too shady or too wet for turf to thrive. Take a moment to consider what conditions in the problematic part of your landscape could be causing turf to suffer, and look for plants that would thrive in those conditions. As always, you can contact your local county Extension office for plant suggestions, as well as any other lawn or landscape questions.